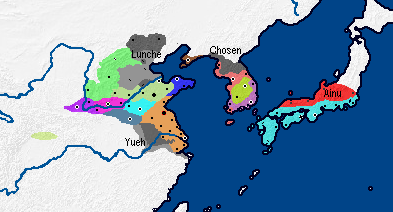 The East Asian region, also known as
Xilan
, is composed of the coasts and rivers of China and the southern half of the island of Japan. Among the varied peoples and nations lining the Xilan coasts are the Yi people who reside on the Yellow River (or the Yi River); Clan Kato, the dominant clan in Japan; the Yueh confederacy and the people of Shanghai, on the southern coasts; and the people of the Kingdom of Korea. Other nations have existed in the area in past times, such as the Xiong horde, the Zhangat and the Zhou - but all of these have been assimilated or conquered by more powerful cultures.
Northern China
Edit
Main Article:
Xilaroi/Xiyi/Jinyi/Shangyi
Xiong
Southern China
Edit
Yueh
Huaiyi
Seoul
Community content is available under
CC-BY-SA
unless otherwise noted.