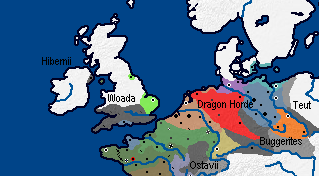 "I
s it war that starts civilization, or civilization that starts war?"- Grey Lance Philosopher
Keltia is a very large region. It includes most of modern day Germany all the way to the United Kingdom and all of France. There are many rivers, lakes, mountains, and trees in this area. The first people to build cities were the Osismii. They conquered their neighbors and began a cycle that changed the future of Keltia. Nations began to pop up everywhere because of them. Now, Keltia is covered in many empires as war becomes a massive thing with very deep meanings. Strategy begins as wild charges are thrown out the window, and elite soldiers ruin the days of the barbaric hordes.
War drums begin to bang as the trumpets of war sound. The game of chess played by the Faith and Druidism has come to a head, and neither side will back down. Who will win in the epic showdown to ensue?
From the east come strange men on strange contraptions pulled by animals called the Buggerites. Will they unite when they see the mess that is Keltia? Or will they fight eachother as they always have?
From the North come strange men of the woad. They do not understand us, nor do we understand them.
From the South come stories of great kingdoms long lost, of earth shaking storms and ashes covering everything. There are stories of kingdoms rising from those very ashes and falling once more.
Update 16: Druidism is struck a mighty blow by the Faithful as Brittania falls to the Faith and the Alfrenks remove themselves from war.
Update 17: The Faith is struck a mighty blow by Armorica as the Druidic army smashes the Faithful armies and the Iron Lances change sides.
Nations in Keltia
Edit
Organizations
Edit
Barbarians
Edit
Destroyed, Defunct or Disappeared
Edit
Religions In Keltia
Edit